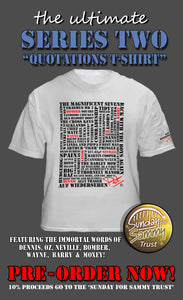 The Series 2 T-Shirt and Mug!
We are very excited to announce the launch of our Series 2 T-Shirt and Mug!
These brand new items feature many of the iconic quotes, places, items and characters from this hugely successful second series. Today, Series 2 is the one fans always remember and talk about, and we have combined all of that magic into one fantastic T-Shirt and Mug!
The Fansite ran a competition to find fans favourite Quote, Character , Location and Item from Series 2, and did they! Thousands of entries were received via Social Media and the Fansite, and we picked some of the very best to feature on the new merchandise. We also used Random.org to choose one of the submissions to pick a winner, who will receive a T-Shirt before anyone else!
Many thanks to all of you who took part, and we will have a new competition soon. In the meantime, check out our brand new merchandise and newly stocked items. We expect the Series 2 T-Shirt and Mug to sell fast, so if you want one of our Official T-Shirts or Mugs, in the words of Oz 'you'd better get in there quick!....'
Pre order yours today: aufwiedersehenpet.co.uk
---