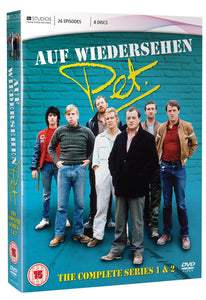 Auf Wiedersehen Pet Box Set - The Complete Series 1 and 2 [DVD]
Auf Wiedersehen Pet Box Set - The Complete Series 1 and 2 on DVD, is your way in to this classic series. The adventures of a a bunch of workers, travelling abroad to Germany in the 1980's is now one of the UK's best ever TV dramas, winning countless awards and continuing to win awards! 
The Auf Wiedersehen Pet DVD Box Set is over 1300 minutes of pure entertainment. Written largely by Ian La Frenais & Dick Clement, who are responsible for some of the finest TV shows ever, Porridge, The Likely Lads just to name a few.
26 episodes from the 1980's series sees the lads heading off to Germany to find work, and spending months being away from their wives and families, some loving it and some absolutely hating it! Laughs, tears, more laughs and more tears as the 7 lads try and survive the bleak Dusseldorf building site, not only for work but as their place of living. A wooden hut on site becomes the 'eighth' member, giving the boys a place to live, eat, sleep and argue.
The final 13 episodes in the Auf Wiedersehen Pet DVD Box Set, is set 2 years later and sees most of the lads back home on English soil. Did the years working in Germany create a better life for the boys? Now, that would be telling! Series 2 of Auf Wiedersehen, Pet is set in the UK and Spain, and sees the lads working for North East based gangster All Fraser played brilliantly by Bill Paterson. In May 1986, the final episode aired and we thought we had seen the last of the boys, but it would be 15 years later when they returned...!
If you have never seen this classic series, this is your way in. 26 episodes of pure brilliance, culminating in a final episode which will leave you wanting more....!
You can buy the Auf Wiedersehen Pet Box Set - The Complete Series 1 and 2 on DVD direct from us, and with same day dispatch, choosing 1st class postage it can be with you withing hours!
 << Buy Now
---