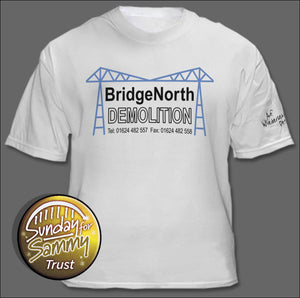 BridgeNorth from Auf Wiedersehen, Pet
BridgeNorth, the lads 'set-up' in series 3 has become synonymous with the Middlesbrough Transporter Bridge, so great in fact we created an exclusive using the logo and information as seen on screen...!
Who can forget that scene of the boys in the solicitors trying to think of a business name for their brave venture to pull down the bridge and make a fortune.... A game of countdown commenced as the boys brought together their first name initials to think of something pithy.... Barry, Oz, Neville Dennis and Barry came up with BOND, but with only BMW left it wasn't looking good. "DIMNOB..." exclaimed Oz, which was quickly dismissed by Dennis for the fact it won't look good on a letterhead.....
So, at a loss and with nothing springing to mind, it was the turn of Neville to come up with...."BridgeNorth?......" The i's were dotted and the lads were off. Watch this classic scene now.
---