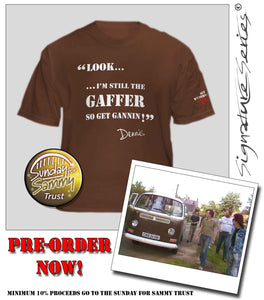 Dennis Patterson Tee-Shirt
In August, we launched our Dennis Patterson Tee!
Featuring his classic line, shouted at Oz outside Thornely Manor in Series 2. "I'm still the gaffer so get gannin'..." is one of his most iconic quotes, and our T-Shirt makes the perfect Geordie Gift for the Auf Wiedersehen, Pet fan in your life!
The T-Shirt is available to Pre-Order now, and fully in stock by the end of August!
To get yours: https://www.aufwiedersehenpet.co.uk/products/dennispatterson
---