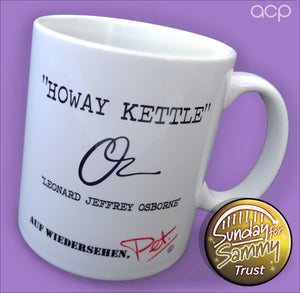 Geordie Mug From Auf Wiedersehen, Pet
Looking for that perfect Geordie Mug for a gift for a friend or loved one?
Here at Auf Wiedersehen, Pet we have a great selection of Geordie based gifts including mugs. As you know, Auf Wiedersehen, Pet is one of if not the most well known TV show filmed and based quite heavily in Newcastle. The 3 Geordies, Dennis, Neville and Oz traveled the world in search of graft, booze and women, well 2 of them did!
We have a Geordie based mug with one of Oz's finest quotes, "Howay Kettle!..." as spoken in the most popular episode ever as voted by fans, 'Private Lives'. To buy this boxed Geordie Mug which comes with a matching coaster in Black or White and presented in a collectors box, just visit here: https://www.aufwiedersehenpet.co.uk/products/howaykettle
A minimum of 10% of proceeds from all sales goes to the Sunday For Sammy Trust based in the North East of England. Charity Number: 1144531
© The Official Logo Copyright Franc Roddam. This exclusive Auf Wiedersehen, Pet design is copyright of Auf Wiedersehen, Pet 2017.
---