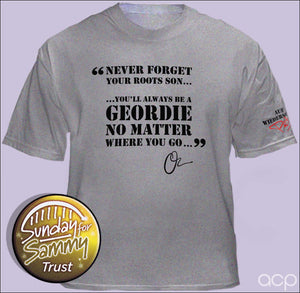 Geordie T Shirt from Auf Wiedersehen, Pet
The feedback for our Oz Geordie T Shirt is still coming in, 12 months after launch!
Back in mid 2016, we launched the Oz Geordie T Shirt, it quickly became the shops best selling item within days, and has continued to be sold all around the world, from Newcastle to Australia, USA, New Zealand and beyond....!
A simple quote from the most watched episode ever of Auf Wiedersehen, Pet has become world famous for hitting the nail on the head, pun intended! Jimmy Nail's character of Oz, says goodbye to his son in Newcastle has become famous for it's simplicity and how it's so very touching. Tough man Oz, holding it together and sending his son off to Italy to start a new life.
In July 2017, the feedback continued this time from a Geordie down under in Australia. 
Chris Y left this feedback on the shop page: "I've been living in Australia for 32 year and just as Oz says on the t shirt says "You'll always be a Geordie no matter where you go". This is oh so true, I hold my head high when I wear this shirt and also to call myself a true Geordie. I have been back for a holiday twice and I always feel like I'm back home. I love the the place and the friendly and proud people...."
The Oz Geordie T-Shirt is available in Oz grey in sizes Small to 3XL.
Buy yours by clicking here, it makes a perfect gift for the Geordie in your life. Same day dispatch and we ship worldwide...!
You can also relive the moment Oz says goodbye to his son....!
---