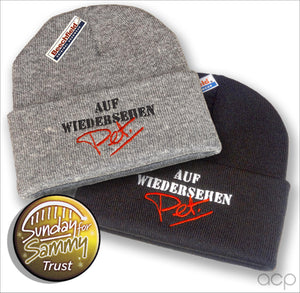 Geordie T-Shirts & Mugs
Here at Auf Wiedersehen, Pet we have a great collection of Geordie T-Shirts and Mugs, which make fantastic gift for a friend or loved one. Geordie T-Shirts and Mugs make great gifts, and we have everything for every budget, starting at just £3.99 up to £24.99 for a premium embroidered hoodie.
We have a range of best selling T-Shirts, Mugs and we also have our Embroidered Logo Beanies which sell out fast during peak times of the year such as Christmas, so be sure to order early to avoid disappointment.
If you don't find what you are looking for, drop us a line! We love to hear from fans, and ideas are what make us great!
Check out our full range of Geordie T-Shirts, Mugs, Hats and much more here: www.auf.pet
---