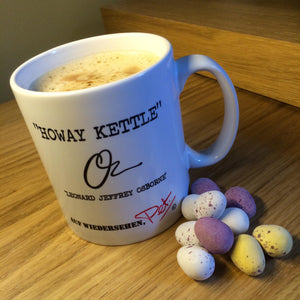 'Howay Kettle' is back!
Over the years we have released many pieces of merchandise, many of them being limited edition items, to coincide with dates etc. One such item was the 'Howay Kettle' mug, made to commemorate 30 years of Auf Wiedersehen, Pet and to also create an item to celebrate the episode 'Private Lives' being voted #1 by Evening Chronicle readers and the Official Auf Wiedersehen, Pet fansite.
We are pleased to announce after many requests, that its back...!
A fresh design and presented in an exclusive collectors box. The mug is available to pre-order, with shipping commencing early April 2017. We hope you loved it as much as we do, and we spent a lot of time and effort finalising the design.....
Pre-order now: https://www.aufwiedersehenpet.co.uk/products/auf-wiedersehen-pet-howay-kettle-mug-black
---